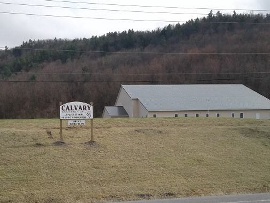 Calvary
...a place of hope, healing & wholeness

We have moved into our new home...

Sunday 10:00 AM Service
960 Mineral Springs Road Cobleskill, NY


Upcoming Events

Welcome To Calvary Assembly of God

Copyright 201
8
Calvary Assembly of God

PO Box 145
Cobleskill, NY 12043

Are you in need of prayer?
Click here.

Thank you for visiting our website today. We invite you to take a few
minutes and click on the tabs above to get to know us a little better.

One of things that you will discover at Calvary is that we are passionate
about sharing God's hope, and seeing people experience His healing, and walking in His wholeness. In fact, you might say that it is in our
church's DNA since it affects all that we do as a church.

We invite you to join us for a Sunday service. You will find a relaxed
atmosphere, a friendly family, uplifting worship, and a practical message from God's Word.



........................................................
Pastor Ray

Thursday, March 15th

.
6:00 PM - Suny Ministry
(at Brickyard Point)

Saturday, March 24th

9:00 AM - Kids Ministry Training Conference
(at First A/G)

Sunday, March 25th - PALM SUNDAY

10:00 AM - Worship Service with Pastor Ray preaching

.
5:00 PM - Youth Group



Tuesday, March 20th

9:00 AM - NYFCF Legislative Day
(at Albany Convention Ctr.)

10:15 AM - Ladies Bible Study
(at Effie's)

.
5:30 PM - Elders' Meeting

.
6:00 PM - Young Adult Bible Study